[ad_1]

Back around 2005, in a pharmaceutical research lab in Nutley, N.J., Becky Taub noticed something. She and other scientists at Roche
CH:ROG
were studying a molecule to see if it had potential as a treatment for diabetes or obesity. What Taub discovered was that the therapy, now called resmetirom, was instead removing fat from the livers of lab animals.
At that time, there was growing interest in better understanding nonalcoholic fatty liver disease (NAFLD), a range of conditions that occurs when excess fat builds up in liver cells. An estimated 25% of Americans have NAFLD, while about 20% of those patients end up developing a more severe version called nonalcoholic steatohepatitis (NASH), in which the inflammation and cell damage caused by the fat buildup can cause cirrhosis and liver failure. 
NASH is one of the top reasons people in the U.S. need liver transplants. 
"Most of these patients are diabetic, and most of them are obese," said Taub, who is now co-founder and chief medical officer at Madrigal Pharmaceuticals
MDGL,
which is developing resmetirom as a treatment for NASH. "They also have high blood pressure. They have elevated cholesterol and triglycerides. It's this whole spectrum of metabolic diseases."
As the medical community began to better understand NASH, so did scientists like Taub, who began a two-decade effort shepherding resmetirom through the scientific and regulatory process — first by acquiring the drug from Roche, then by co-founding Madrigal in 2011 and then, five years later, setting up a reverse merger with Synta Pharmaceuticals that gave Madrigal the funding it needed to get resmetirom into a Phase 2 study. 
The drug is now one of two NASH therapies that may soon receive Food and Drug Administration approval at a time when around 13 million adults in the U.S. are thought to have the disease. Wall Street hopes that NASH drugs may help the battered biotech stock sector recover from its two-year slump, but there is also uncertainty about the potential costs of these therapies as well as concerns about access to drugs that treat a condition associated with obesity.  
The medical community "now is focused on fatty liver, like they were focused on hepatitis C 10 years ago," said Jamile Wakim-Fleming, a hepatologist and director of the Cleveland Clinic's Fatty Liver Disease Medical Home Program, referring to the curative blockbuster drugs developed a decade ago. She noted that fatty liver disease, which can lead to cirrhosis, is on its way to becoming "the No. 1 cause of liver cancer for patients on the [waiting] list for transplants."
Though the development of drugs to treat NASH stalled for years — largely due to the complexity of the condition — things now appear to be moving forward, and the stage is being set for a lucrative pharmaceutical market buoyed by rising rates of NASH, which is associated with obesity and Type 2 diabetes. 
There are two drugs to watch: The first is Madrigal's resmetirom, which in a Phase 3 clinical trial was shown to improve fibrosis and resolve NASH. This means that the disease is no longer progressing, though patients remain on therapy. The company plans to submit the drug for FDA approval as a treatment for noncirrhotic NASH with liver fibrosis in the first half of this year, and approval could come by early 2024. 
The other drug is Intercept Pharmaceuticals'
ICPT
obeticholic acid, which is currently being reviewed by the regulator as a treatment for patients with pre-cirrhotic liver fibrosis due to NASH. A late-stage trial showed that the drug can treat the fibrosis that is common in NASH patients. The FDA's decision on obeticholic acid is expected in June. 
"This is a watershed moment for the NASH field," said Andy Hsieh, a biotech analyst for William Blair, who predicts the total addressable NASH market could be $40 billion by the 2030s. 
NASH: asymptomatic, risky and common
The number of people in the U.S. with NASH is soaring, in tandem with rising rates of Type 2 diabetes, obesity and heart disease. The disease's prevalence rate rose to 2.8% in 2020, up from 1.5% in 2010, according to research published last year in the Annals of Hepatology that assessed adult health records from 26 health systems in the U.S. 
While not all NASH patients are obese, all are at higher risk for liver cancer and heart disease. Some are at risk for liver transplants and other costly medical procedures.
Certain genes can put a person at higher risk of NASH, but it's really the accumulation of triglycerides in the liver that causes the disease. Too many triglycerides make it harder for the liver to process free fatty acids, and instead of those acids being turned into energy, they remain in the liver. 
"That's what we pick up as fat on biopsy," said Meagan Gray, a transplant hepatologist who runs the University of Alabama at Birmingham's nonalcoholic fatty liver disease clinic.
An estimated 5% of American adults have NASH, and more people are expected to be diagnosed with the disease as obesity and Type 2 diabetes rates continue to grow and screening for NASH becomes more common. 
NASH is often referred to as a silent killer: Most people with the slow-progressing disease have no symptoms until liver damage has already occurred. The doctors interviewed for this story say diagnoses often occur when liver problems are identified on a CT scan during treatment for another issue, though NASH can sometimes show up in routine blood work or when a patient reports pain in the upper abdomen. 
For now, patients have limited treatment options. They can make lifestyle changes — such as losing 10% of their body weight, switching to the Mediterranean diet, incorporating daily exercise into their lives, or drinking black coffee, which has antioxidant qualities. Some patients take vitamin E supplements to reduce inflammation. Others get off-label prescriptions for the diabetes drug Actos, which can reduce fibrosis and scarring but can also cause weight gain. 
"We recommend lifestyle modification and weight loss," Gray said. "A small percentage of patients are able to achieve the weight loss that's recommended with diet and exercise alone, and then an even smaller percentage is able to maintain that weight loss. But we want sustainable treatments that are going to help patients do well for the rest of their lives. So medication is definitely needed."
Wall Street's focus on metabolic diseases
After years of bringing new treatments for rare diseases and cancers to market, the pharmaceutical industry's focus has swung in a different direction. There is now renewed medical as well as cultural focus on metabolic diseases, spurred by the runaway success of new hormone-like therapies like Novo Nordisk's
DK:NOVO
Ozempic and Wegovy and Eli Lilly's
LLY
Mounjaro that help people with obesity and Type 2 diabetes lose weight. 
At the same time, a push to shift the blame for obesity away from the individual is also starting to have an effect, and that's helped make the case for new treatments for a range of metabolic diseases, including obesity and NASH. 
"NASH is fitting in with the mood of, 'We need to get metabolic diseases under control,'" Taub said. 
Roche had asked Taub to move to Basel, Switzerland, where the company is based, during a reorganization in 2009. She declined, worried about the impact of moving overseas on her teenage children. Instead, as part of a "special deal," Roche licensed resmetirom to Via Pharmaceuticals, which eventually became Madrigal. The company still owes Roche about $8 million in milestone payments if and when the drug is approved in the U.S. and Europe, in addition to royalty payments based on net sales. Madrigal was eventually backed by a single venture capital firm: Bay City Capital.
"All the clinical research was done by Madrigal," Taub said. "And we were very, very tiny — just two or three people doing this work."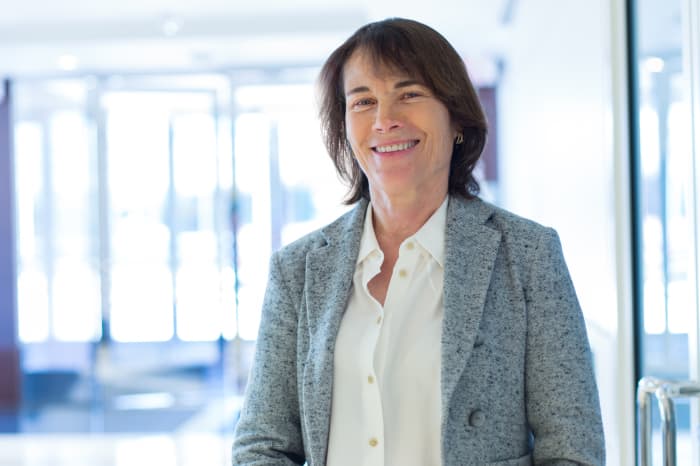 Therapies for NASH have been notoriously difficult to develop. In recent years, GenFit
GNFT,
NGM Biopharmaceuticals
NGM
and Intercept all saw mid- or late-stage clinical trials fail, and those failures are reflected in the stock performances of those companies. GenFit's U.S.-listed shares have tumbled 78% since announcing the failure in May 2020, while NGM's stock was down to $5.01 on Feb. 10, as compared with $18.38 before announcing the failure of its drug in May 2021.
But in 2022, things began to shift. 
Madrigal's stock price has more than quadrupled to $257.48 on Feb. 10 from $63.80 on Dec. 16 after the company announced Dec. 19 that resmetirom hit both primary endpoints in a randomized double-blind, placebo-controlled Phase 3 clinical trial that enrolled about 1,000 patients.
And Intercept, which announced Jan. 19 that the FDA had accepted the resubmission of its application for obeticholic acid for a NASH indication, has watched its own shares jump 36% over the last time period. The announcement came after the therapy suffered previous failures in clinical trials to treat fibrosis in NASH patients.  
At least half a dozen other companies have drugs in mid- or late-stage clinical trials, including Lilly, which is testing Mounjaro to see if it can improve NASH outcomes, with data expected later this year. There's also been a halo effect for the stock prices of several companies developing NASH treatments since the Madrigal announcement. Shares of Viking Therapeutics
VKTX,
which has a NASH drug in a Phase 2b trial, are up about 52% since Dec. 16, while Terns Pharmaceuticals'
TERN
stock has rallied 43%. 89bio
ETNB,
which is expected to have data from a Phase 2b clinical trial for NASH sometime this quarter, has watched its stock gain 32%. 
These stocks are far outpacing the SPDR S&P Biotech ETF
XBI,
which is up 3.0% over the past three months, and the SPDR S&P Pharmaceuticals ETF
XPH,
which has gained 1.4%. 
"You can hear this palpable change in sentiment among investigators about the promise of NASH [drugs]," Hsieh said. "After banging heads against a wall for years, finally, we have something that could really help patients."
How much should a NASH drug cost?
If the clinical data ends up being as good as the companies say it is and the FDA starts to grant approvals, the questions will be: Do Americans want these drugs? And will they be able to afford them? 
There are a number of predictions about how expensive NASH drugs could be. Hsieh suggests that resmetirom could be priced around $5,000 a year, similar to the cost of brand-name statins that are prescribed to treat high cholesterol. Research published last year in the Journal of Medical Economics suggests that any NAFLD drug that costs more than $12,000 a year isn't cost-effective compared with the standard of care. The Institute for Clinical and Economic Review, an influential organization that analyzes the value of medications, is set to review both obeticholic acid and resmetirom in April to recommend how the drugs should be priced. 
Beyond pricing, there are a number of unknowns about how the market for NASH drugs will play out. Having two different drugs come to market around the same time may help lower prices by creating competition, although the therapies are expected to get different labels from the FDA. Severe itching, a side effect of obeticholic acid seen in some patients, may also limit interest among patients. And it's unclear how health insurers and pharmacy benefit managers will cover the new therapies, if and when they are approved. For instance, insurers more consistently cover the new Type 2 diabetes drugs like Ozempic and Mounjaro, while securing coverage for Wegovy — the weight-management medication — is harder. 
"Every time new drugs come out, it's always a struggle," Gray said. "It seems like drugs are easier to get when they're for more socially accepted diseases. I hope that NASH falls into that category with Type 2 diabetes, where insurance is really important and [the drugs need] to be covered by all plans."
[ad_2]

Source link