[ad_1]

Contrary to popular belief, you can take a road trip in the winter. With proper preparation and planning, hitting the road during the winter months can be a fun and unforgettable travel experience.
Looking for winter road trip ideas? Interested in a winter road trip but worried that everything along your route will be closed for the season? Worry no more.
We've put together three fun, doable winter road trip itineraries, and we even did the legwork to ensure our suggested stops are open year-round.
See: Six towns worth visiting for their historic downtowns
Minneapolis to Decorah, Iowa (150 miles)
About halfway through this gorgeous drive, you'll come upon the small town of Cannon Falls. Stop for a snack at the aptly named Sweet Kneads (the cookies are particularly good,) then poke around the historic downtown and check out the Cannon River that runs through the city. No road trip is complete without a photo of a strange roadside statue or novelty water tower, so you should take the extra five minutes to Instagram Rochester's corn-shaped water tower.
If you packed your snowshoes or skies, stop at Forestville State Park and enjoy the 60+ miles of trail. Even if you don't bring equipment, you can explore the park and the restored buildings of Historic Forestville—the village that used to exist here.
Also see: 'An out-of-body experience': The 2024 North American eclipse is shaping up to be the biggest 4-minute show of the decade
Once you're in Decorah, stay at the historic Hotel Winneshiek if you're feeling fancy. If you're more adventurous, stay in a converted train caboose on a horse farm (yes, you read that correctly). Wherever you stay, don't miss the Vesterheim Norwegian-American Museum or the award-winning Toppling Goliath brewery.
Chicago to Mineral Point, Wisconsin (170 miles)
Whether you live in Chicago or use it as a jumping-off point for a couple of days exploring the Midwest, this route is a winner. Hit the road early and stop in Rockford for breakfast at The Stockholm Inn—try their Swedish pancakes with lingonberries or salt herrings. Then, check out the Nicholas Conservatory and Gardens for tropical-temperature fun if you want to stretch your legs without freezing your toes.
Stop in Monroe, Wis., to visit Minha's Distillery. See how they make their products and warm up with (small) samples of their vodka, rum and gin. Looking for offbeat attractions? The Toy Train Barn Museum in Argyle, Wis., is fun for the entire family. 
Once you reach Mineral Point, you'll wonder why you haven't been vacationing here for years. Hang your hat at The Mineral Point Hotel. Mineral Point has a very active arts community — explore the Wantoot gallery or Brewery Pottery. Check out the events calendar for Shake Rag Alley Center for the Arts to see if they're running any workshops you'd be interested in. Also, make sure you eat at least one meal at The Red Rooster Cafe and order a famous Cornish pasty.
Plus: Ford is now making this off-roader just for those who want to live that #vanlife
Boston to Waitsfield, Vermont (190 miles)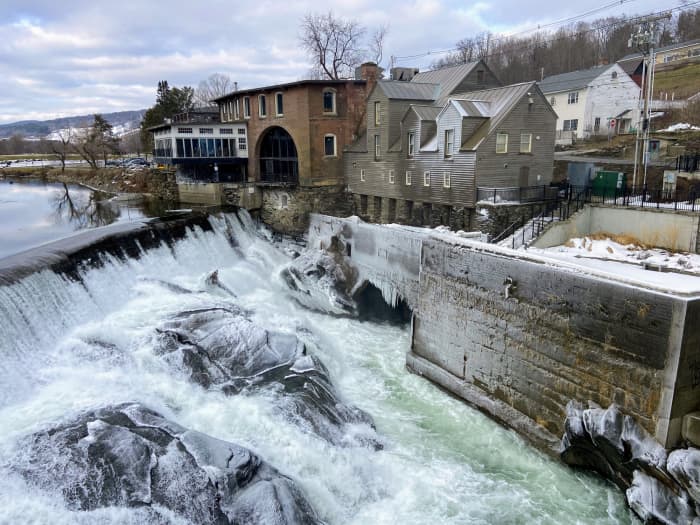 Start your trip with breakfast at MaryAnn's Diner in Derry, N.H. It's a classic 50s-style diner — shiny metal exterior and all — that serves huge breakfasts. Next, take a little detour into Warner, N.H., for the New Hampshire Telephone Museum. Worth the visit just to see your childhood curly-corded, rotary phone on display!
Queechee Gorge is beautiful any time of year, and — bonus — you can look at it without freezing because you can park nearby. You can admire the Ottauquechee River and the frozen falls from the comfort of the beautiful Simon Pearce Restaurant while you warm yourself with one of their fabulous cocktails. Spend the night in Waitsfield and stay and eat at the Tucker Hill Inn. 
More: 12 best American road trips
Catch a meal and a movie at Big Picture Cafe, and make sure you stop at Village Grocery for a serving of Creemee's maple-flavored soft serve. And, of course, there's lots of good skiing in and around Waitsfield. Skiers should check out Sugarbush or Mid River Glen. Non-skiers can rent ice skates at Waitsfield's Skatium outdoor ice skating rink.
Read the original article on Livability.
[ad_2]

Source link