[ad_1]

The Super Bowl has already gone to the dogs with the Puppy Bowl. But these miniature horses are cute enough to put those puppies out to pasture. 
Mane In Heaven, a Barrington, Ill.-based non-profit, connects people with miniature therapy horses to promote mental health and well-being. The little horses visit hospitals, retirement communities, skilled nursing facilities, schools, veteran facilities, libraries and more, all at no charge. 
And now they're giddying-up to the gridiron — so to speak.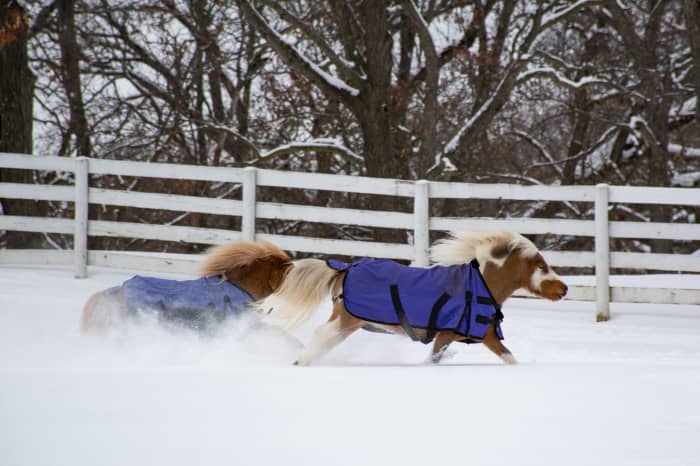 Mane In Heaven threw a "Mini Bowl" outside of its Barrington Hills barn last week, timed to Sunday's Super Bowl game between the Philadelphia Eagles and the Kansas City Chiefs. The non-profit filmed several of its mini horses (swaddled in cozy-looking red ponchos) pushing an oversized inflatable football around with their noses (and eventually deflating it with their teeth.) The roughly four-minute video shows the horses dashing through the snow and fighting over possession of the ball — all set to epic, instrumental music, of course. 
Watch them here: 
"Our mission  is connecting people with miniature horses to promote kindness, empathy and overall well-being. And in today's world, everyone needs a little kindness and hope,"  Mane In Heaven president Dina Morgan told MarketWatch over email. "We are happy so many people are seeing the video." 
Morgan noted that the completely volunteer-run non-profit is always in need of support. Most pressing right now is a new transport vehicle for the horses. "Currently they ride in a mini bus which is in need of repairs and has over 200,000 miles on it," she said. "So, fingers crossed, and hoping additional donations will come in to meet our goal of obtaining a transit vehicle so the minis can visit hospitals." 
Already, the video is bringing attention (dare we say a "colt" following?) to their organization. Morgan noted that the "Mini Bowl" video has helped drive a 50% spike in traffic to their social-media accounts.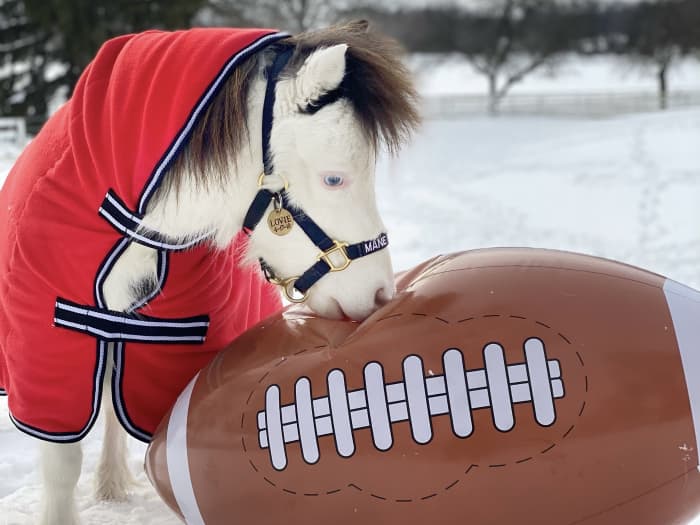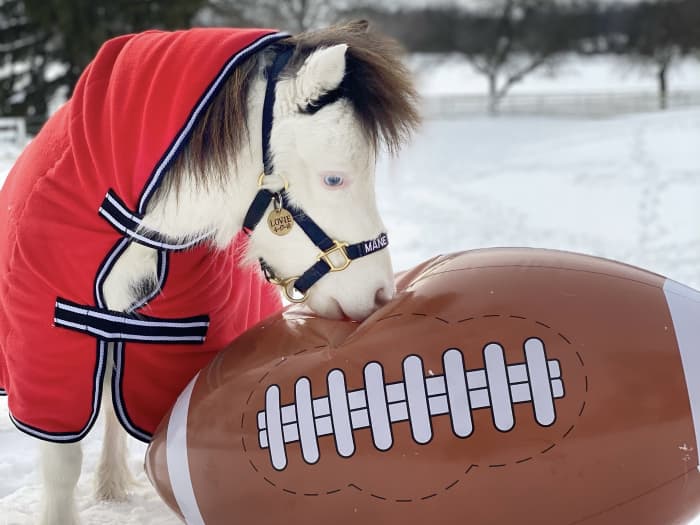 There's certainly an appetite for this kind of feel-good creature content online, as a growing number of animal sideshows has started competing with the Super Bowl "mane" event over the past several years. 
Most notably is Warner Bros. Discovery's
WBD,
-1.04%
Puppy Bowl on Animal Planet, now in its 12th year, which features more than 100 adoptable pups tumbling over each other in a miniature football stadium stocked with chew toys — including little footballs — as well as a "water bowl cam" and a "puppy kiss cam." The fur-flying footage is set to a pair of human announcers providing plenty of pun-filled commentary. 
And the mutt match-up has inspired plenty of copycats, including the Hallmark Channel's Kitten Bowl, which was canceled after last year. But feline lovers don't need to fret — cats have nine lives, after all. And "The Great American Rescue Bowl," a new TV special hosted by Beth Stern (philanthropist and wife of Howard Stern), has replaced the event. The new special, which can be streamed on GAC Family on Philo, will also feature adoptable kittens, puppies, cats and dogs from around the country. 
[ad_2]

Source link