[ad_1]

When Dallas Cowboys kicker Brett Maher struggled in a playoff game against the Tampa Bay Buccaneers on Jan. 16, 2023, missing four extra-point attempts and setting a new NFL record in the process, it was hard not to think one thing.
Was Maher suffering from a case of the yips?
The term is one often used to describe an athlete who suddenly can't execute plays that used to be routine. Think the golfer who can't sink a two-foot putt. Or the baseball catcher who can't toss the ball back to the pitcher.
In many instances, athletes are able to get back on track — if not immediately, then over time. But in extreme cases, whole careers are ruined. An oft-cited example: Pittsburgh Pirates pitcher Steve Blass, a star player who lost his throwing rhythm during the 1973 season and never gained it back.
Other well-known athletes who suffered from the yips include baseball players Steve Sax and Rick Ankiel, golfer Ernie Els and gymnast Simone Biles (though in the case of gymnastics, the condition is often referred to as the twisties).
In its most basic form, the yips are "a kind of blocking of performance…like a portion of the body is acting almost like a frozen weight," said Dr. Nick Molinaro, a licensed clinical psychologist who has made something of a specialty working with athletes troubled by this problem.
Like other experts MarketWatch spoke with for this story, Molinaro can't say definitively if Maher was experiencing the yips. Still, Cowboys special-teams coordinator John Fassell said the yips were definitely at work in Maher's misses.
In many cases, the yips are viewed as a psychological problem. Specifically, the athlete could have some kind of performance issue, but in trying to correct that, he or she may tense up in a way that exacerbates it, Molinaro explained.
In other cases, there is more of a direct medical problem — namely, a neurological disorder known as focal dystonia that causes "involuntary muscle contractions in one body part," according to the Cleveland Clinic.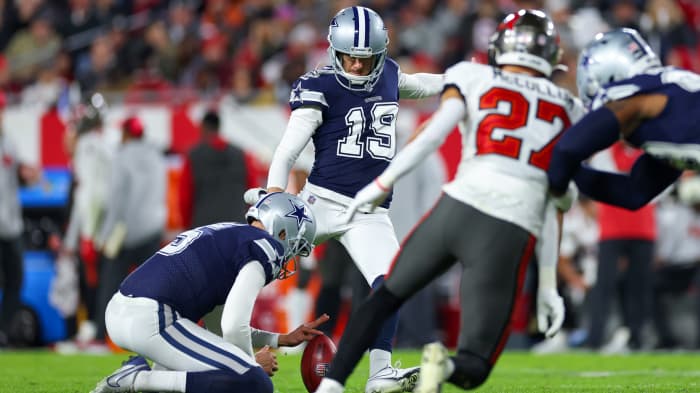 Either way, there are still lots of misconceptions about the yips, experts note.
Dr. Steven J. Frucht, a neurologist with NYU Langone Health in New York City, points to the fact that having the yips is not strictly a problem for athletes. Musicians can also suffer from it, he said, citing the late pianist Leon Fleisher as an example. (He spent a portion of his career performing with only his left hand.)
David Grand, a psychotherapist who has worked with athletes experiencing the yips, also said it's a mistake to think of the problem as a kind of overnight one.
Instead, "it's a broad spectrum of experiences," Grand said. He suggests that an athlete who is experiencing a slump but is still able to play with a degree of competence could be suffering from a form of the yips. "That's a slow-motion version," he said.
The good news is that treatment options now abound for the issue, with practitioners from different fields saying they have success with a variety of solutions. Frucht said he often treats focal dystonia with injections of Botox or equivalent drugs, though he noted it requires a degree of skill to "know where you're putting the toxin."
Molinaro said he has used hypnosis as an effective psychological treatment. And Grand said he employs a therapeutic technique he developed known as Brainspotting, which ties in with his belief that having the yips is related to childhood psychological trauma.
It remains to be seen if Maher, the Cowboys kicker, will continue to struggle on the field with whatever problem he experienced in Monday's playoff game. The good news, at least for now, is that the team looks to be giving him another chance in its next playoff game, when it plays the San Francisco 49ers on Sunday.
"We've got trust in him," Cowboys running back Ezekiel Elliott said in an interview with Yahoo! Sports.
[ad_2]

Source link